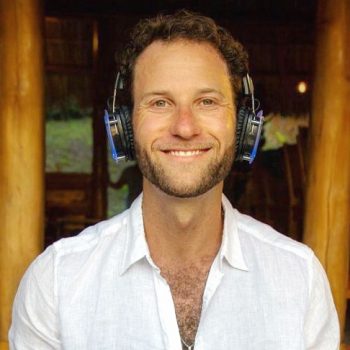 Joshua Sam Miller
Mindful Sound Explorer
AMS2022 Practice Session
Sounds of the Ocean
Sounds of the Ocean is an immersive audio/visual performance designed to build connection with marine life. We combine high quality recordings of whales, dolphins and ocean sound with live instruments, visual art and dance to guide participants into the depths of themselves and the depth of the ocean.
This experience supports mental health by reducing stress and builds awareness around critical issues facing the health of our planet including plastic pollution and noise pollution underwater. We have toured the project internationally in Costa Rica, Guatemala, Egypt, Germany, Greece and the United States and performed at the 2021 COP26 Climate Conference and The Shift Network Virtual Music Festival and several retreat centers and music festivals around the world.
Joshua Sam Miller
Joshua leads the Embodied Sounds team as a sound and visual artist, music producer and ocean conservationist. He strives to reduce stress in people's lives by building connection back to the natural world through sound. He grew up playing clarinet, but really wanted to play drums, so now he does both and mixes ambient percussion with melody to transport listeners to a deep state of rest. Joshua has shared his experience with sound as a meditative tool at festivals, yoga studios, healing retreat centers and wellness events in Australia, Bali, North and Central America, the Middle East and across Europe. In 2020, Joshua's work was accepted as part of the International Year of Sound as mobilized by the International Commission for Acoustics. In 2021, he presented his work at the United Nations Climate Conference COP 26 and has appeared at the NAMM Show, PBS Television, Agape Zoe Festival and has participated in over 100 workshops at iconic venues such as UCLA, Grace Cathedral and Burning Man. He is driven by passion to raise environmental awareness by curating immersive sound and visual experiences in support of ocean conservation work around the world.